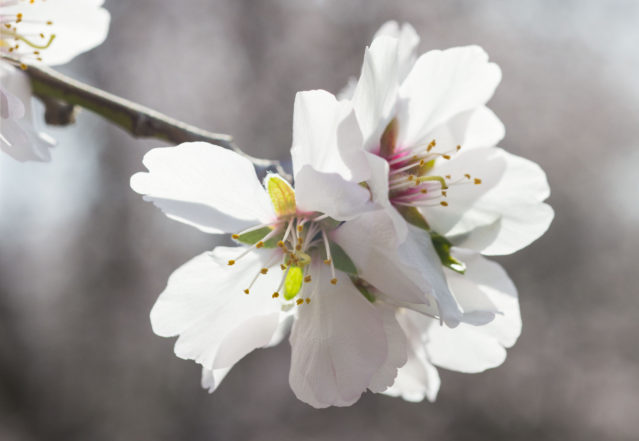 I keep staring at the title of this post. For the past several years, I've written about Tu B'Shevat, the minor Jewish holiday that celebrates "the birthday" of trees and honors the fruits of trees, vines, and earth. In large part, it's about waiting for fruit trees to reach maturity to ensure good production and longevity. I love this holiday! But, to mix metaphors (and holidays), why does this year feel so very different from all other years? Oh, right. In 2018, California lived through its deadliest fires in history.
Sometimes a much-needed offer of hope appears when we least expect it. Tu B'Shevat occurs during the January-February micro-season (this year January 21), which often feels interminably gray. However. We've passed the winter solstice, the days are indeed getting longer, and buds are beginning to swell. Yes, we say, there's light at the end of winter's tunnel. And don't you know, the symbol of the holiday is the gorgeous flowering almond tree, the first fruit of the year to bloom.
Tu B'Shevat is the perfect tie-in to the fight to save our dying forests and urban greenscape. How important are trees to our food supply? They're the original multitaskers; trees nourish the soil, catch water, house the creatures that pollinate our crops, and much more. Start your year by giving back to the trees.
Here's more from our friends at TreePeople:
"The Malibu Woolsey Fire burned almost 100,000 acres in Los Angeles and Ventura counties within 7 days forcing close to 200,000 residents from their homes. In Northern California, the Camp Fire has become the deadliest wildfire in California history with more than 80 dead and over 1,000 people still missing. These threats underscore how much we need to come together and support each other.

The size of the Malibu Woolsey fire now measures more than 150 square miles, according to Los Angeles County Fire Department Fire Chief Daryl Osby—roughly the size of the City of Denver, Colorado.

Fueled by low humidity, extended droughts and gusty winds, the death and destruction of the fires in California have made us more determined than ever to implement our solutions for climate and fire resilience….we cannot afford to lose anymore lives, wildlife, forests or millions of acres of precious land.

Since the wildfires started, TreePeople has been moved with calls from people like you who wanted to do something to help. Our precious mountains and impacted communities will need you more than ever before…and we invite you to rise to the challenge."
Ways to support their efforts: