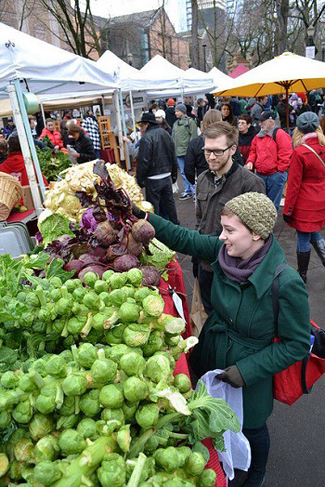 I recently wrote about Siena Farms and their approach to maximizing the growing and selling seasons DESPITE being in a cold climate. Here's a sampling of winter markets in other parts of the country. I've been to all of these–maybe not in deepest winter, but definitely during shoulder seasons.
The photo above is what February looks like at the Portland Farmers Market. The 22-year-old market has 250 vendors over six sites.
Not cold enough for you? How about the Mill City Farmers Market in Minneapolis? Susan Dietrich was the first one to write in last week to cheerlead for the MN markets that offer  potatoes, onions, carrots, shallots, cabbage, beets, parsnips, rutabagas, frozen raspberries, radishes, turnips, kale, spinach, arugula, apples, squash, dried mushrooms and tomatoes this time of year. This is Pam Benike of Prairie Hollow Farm in Elgin, MN:
And  Stone's Throw Urban Farm, also at Mill City:
What's the attendance at a far north market? Katherine Heilmann, Marketing and Events Manager for Mill City says, "We have up to 40 vendors at each of our winter markets compared to just over 60 in the summertime. Up to 20% of our winter market vendors have produce. The remaining vendors have cheese, meats, eggs, value-added products like jams and jellies, salsas, kimchi, honey, and more."
Elizabeth Winslow, communications manager for the Sustainable Food Center in Austin, TX, shared this from the SFC Farmers' Market:
"Winter is my favorite season for local food here in Austin-we see abundant greens, hearty cauliflower and broccoli, and crunchy earthy root vegetables like carrots, beets, radishes, and sweet potatoes," she says. "We're also lucky to have beautiful Texas grapefruit, oranges, and tangerines!" (Full disclosure: my daughter Rebecca Saltsman also works for SFC.)
And finally, The Windy City's Green City Market is no stranger to bright green things in winter:
Founded in 1998 by the late chef and cookbook author Abby Mandel, this robust Chicago market went year-round five years ago.
Is your market year-round? Got hat and gloves? Support your local farmers.
Want more? Secrets of Winter Farmers' Markets, Part 1