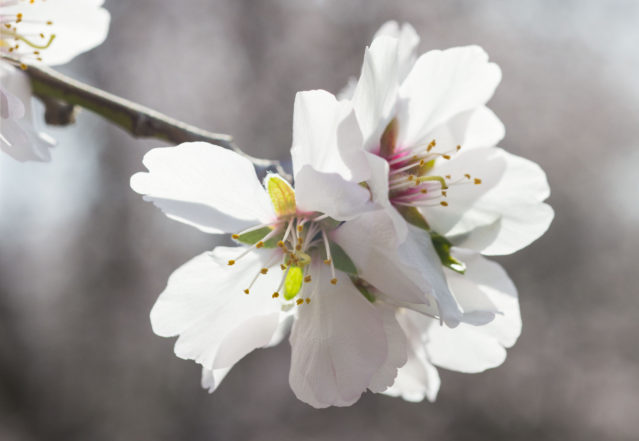 I keep staring at the title of this post. For the past several years, I've written about Tu B'Shevat, the minor Jewish holiday that celebrates "the birthday" of trees and honors the fruits of trees, vines, and earth. In large part, it's about waiting for fruit trees to reach maturity to ensure good production and longevity. I love this holiday! But, to mix metaphors (and holidays), why does this year feel so very different from all other years? Oh, right. The world is a-jumble in new and strange ways. Whatever our political leaning, at least we can agree on that.
Sometimes a much-needed offer of hope appears when we least expect it. Tu B'Shevat occurs during the January-February micro-season (this year February 11), which often feels interminably gray. However. We've passed the winter solstice, the days are indeed getting longer, and buds are beginning to swell. Yes, we say, there's light at the end of winter's tunnel. And don't you know, the symbol of the holiday is the gorgeous flowering almond tree, the first fruit of the year to bloom.
Tu B'Shevat is the perfect tie-in to the fight to save our dying forests and urban greenscape. How important are trees to our food supply? They're the original multitaskers; trees nourish the soil, catch water, house the creatures that pollinate our crops, and much more. When I was writing The Seasonal Jewish Kitchen, I dreamed of teaming up with TreePeople to connect the dots between ancient tradition and today's work on reforestation. That dream is now a reality. This Thursday, February 9, Andy Lipkis, founder of TreePeople, Evan Kleiman, host of KCRW's Good Food, and I will be at the Skirball Cultural Center Los Angeles for a timely discussion about tradition, climate change, and how this tree-honoring Jewish holiday offers ancient lessons to eco-conscious and sustainable living. You can reserve your space here.
We'll enjoy a post-conversation tasting of holiday sweets and savories from The Seasonal Jewish Kitchen, including Roasted Roots and Their Greens with Sonora/Fife Blend Wheat Berries, prepared by Jessica Buonocore|Love Food (it's a family affair; my talented daughter is a caterer 🙂 ) and with a generous contribution from Weiser Family Farms and the Tehachapi Heritage Grain Project. Oh, I do love how the dots connect!
You'll find the recipe for this perfect winter grain bowl here.
And here, from me to you, are more delicious ways to celebrate Tu B'Shevat: