It is officially melon season. Here's the one trick you need to easily skin, slice, and dice your way through a summer's worth of cantaloupe, honeydew, or any of the fabulous types available at farmers' markets, such as Weiser Family Farms' lovely French Cavaillons, above, and their Israeli Arava variety, below. This technique makes short work of cutting crescents to pair with prosciutto or chunks for a summer salad, like this refreshing and unusual Melon and Cucumber Salad with Mint. What's that you say? Well, cukes and 'loupes are kissing cousins and they marry well.
I learned this chef's trick to quickly "process" a boxful in minutes from pastry chef Angela Hunter Geiss. It changed my life, at least where melons are concerned.
Step 1: Cut a thin slice off the top and bottom ends of the fruit.
Step 2: Stand the fruit on one end and use a sharp knife to shave off the skin, tracing the curve of the melon with your knife. Don't worry if you missed some spots at the bottom. Simply turn the melon on its other end, and shave off the rest. The smaller the knife, the more precisely you will be able to follow the curves. If you're in a hurry like I usually am, use a somewhat larger knife as I did on this early-season specimen where I wanted to cut more deeply to get to the juicier parts.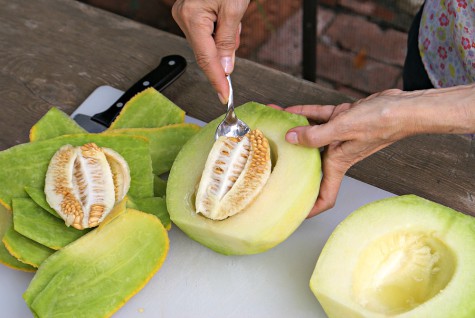 Step 3: Cut the fruit in half lengthwise. Then use a spoon to scoop out the seeds.
Step 4: Turn the fruit flat side down for better control, and slice it into crescents. Chop the crescents into chunks, if desired.
Serve the sliced fruit with thinly sliced prosciutto and a glass of prosecco for an easy summer appetizer.
You might also like: