Last week, I gave a market tour that told me just how much times have changed. Used to be, we'd plunge right in, intent on learning what's in season and discovering the flavors of fresh, ripe ingredients. This time, I first spent twenty minutes answering questions on how to gauge the quality of the market itself.
I like this shift. It's a sign we're starting to realize that the availability of great produce depends on the excellence of the markets themselves, which can be only as conscientious as the entities that run them.
Here in California, where certified farmers' markets proliferate exponentially (12 in 1977, 170 in 1988, 360 in 2000, over 700 today), the industry is grappling with how to ensure that all three components—produce, market, and operator—stay true to the original intent of the Direct Marketing Act: to facilitate the sale of agricultural products from in-state producers directly to consumers with sufficient regulatory control to ensure that products are of acceptable quality and that selling is conducted honestly and fairly. (You'll notice there are no references to pony rides, kettle corn, or any of the other frills that overwhelm some markets.)
So, at the California Small Farm Conference held in San Jose in early March, a roomful of market managers debated the question: What constitutes a successful market? The answer: Make the farmers happy. If the focus is on the grower, everything needed to create a thriving market that inspires customer confidence and loyalty will flow:
a varied crop mix that's fair to the farmer and keeps people coming back
a good market layout
promotion focused on farmed foods
educational outreach to both children and adults
adherence to state, safety, and health code regulations
Basically, these criteria are also the manager's job description. With new markets popping up quickly, it's imperative that inexperienced managers get proper training.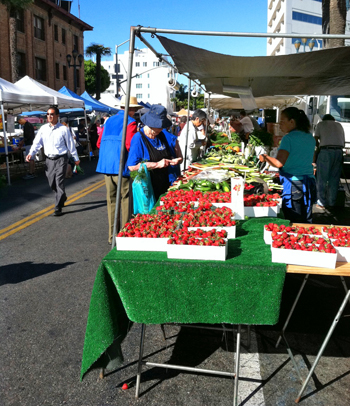 There's more. Managers are the front line when it comes to enforcing honesty and integrity. At another SRO panel that included citrus researcher David Karp (and that I was honored to moderate), the topic was how to detect "PNOOP," David's acronym for vendors selling "products not of one's own production." Dedicated managers know their growers, visit farms, and patiently build strong rosters of growers.
This can take years. The Santa Monica Farmers' Market has been operating for 30 years, most of them under the inspired guidance of Laura Avery. Here are several younger markets in the L.A. area that are developing into reliable resources because of the vision of their leadership:
State and county backup is needed for true quality control, which takes regulatory change, partnership, and funds. I went straight from the conference to state meetings where an ad hoc committee presented its in-depth report on avenues for market improvement, including manager training and certification; additional inspections; technology and communication improvements; education; and funding. This list actually represents many years of committee debate on needed fixes and support. It's a golden opportunity for change. For more on this drama-filled meeting, see David Karp's story.
Here are five easy clues (you'll find more in my book) to help you decide where to spend your farmers' market dollars:
Ratio of growers to prepared foods and crafts
Ingredients are in season and produced locally
Pride of product (appetizing display, knowledgeable vendor)
Mouthwatering ingredients with great flavor
Happy farmers, engaged managers
I'll close with this: Please join me in supporting the national Bake Sale for Japan on April 2. All monies raised will go to Peace Winds Japan (a disaster & emergency response NGO) for ground relief—medical and sanitary supplies, blankets, clothing, etc.—and, if enough is collected, for long-term reconstruction. See details at right. I'm making Chocolate Chip Oatmeal Cake and taking it to Angeli Caffé. If baking's not your thing, click on "donate now" and give money.