From a sweet-spicy Fuyu persimmon, that is. This is the type that should be eaten firm. That's them above: deep orange, with a flattened oval shape. They are gorgeous in this autumn salad or Roasted Autumn Fruits, and are a terrific replacement for figs or melon in a cheese or charcuterie platter as well.
Persimmons are generally seedless, but IF you cut them the correct way, they reveal sand dollar-like seed markings that make your dish extra-beautiful. Here's how to get the look:
Hold the fruit on a cutting surface with one hand. Use a paring knife to cut out the core in a sort of cone shape, rotating the fruit as you go.
Cut the persimmon in half top to bottom, vertically, pole to pole–whatever term helps you visualize the direction.
Turn one half cut side down with the "pole ends" pointing to either side of you, just like I'm doing in the picture. Cut thin, crosswise slices from each half. Et, voila!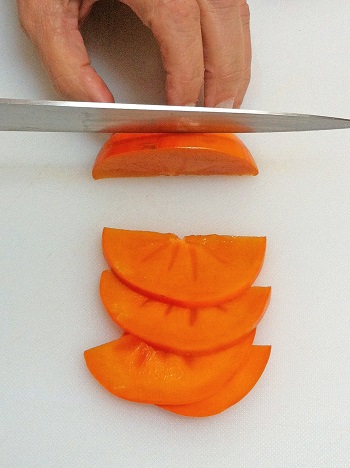 Remember: firm Fuyus. Do not attempt this with oblong Hachiya-type persimmons! When firm, they are so astringent that the insides of your cheeks will instantly meet, the unripe fruit is that puckery. Jam-ripe Hachiyas, on the other hand, are quite amazing, but that's a whole other story.