"Farmers' markets are one of our nation's greatest resources, and knowing how to cook from them can unlock their deep treasures. Amelia Saltsman gives us the key." – Evan Kleiman, host of Good Food on KCRW
NEXT TOUR: Wednesday, July 10, 2019

Want to eat fresh, seasonal, local food? Then you'll want to learn how to navigate farmers' markets like a pro! Take a tour of the Santa Monica Farmers' Market with Amelia Saltsman, author of The Santa Monica Farmers' Market Cookbook, Summer Entertaining e-book, and The Seasonal Jewish Kitchen, and familiar voice on KCRW's Good Food. A tour is also the perfect gift for graduations, weddings, and Father's Day!
Due to popular demand, Amelia is now sharing her vast knowledge of the market with you. You'll be guided through the Santa Monica Farmers' Market, one of the largest and most important markets in the country. You'll meet Amelia's friends, farmers and chefs. Her insight, tips and expertise will give you the tools and skills needed to navigate your own local farmers' market with ease.
Do the choices at farmers' markets overwhelm you, or do you not even go? Amelia will give you tips on what to buy and how to cook it, making your shopping trips fun, easy and anxiety-free.
Summer Tour: Wednesday, July 10, 2019
Kick off the July-August micro-season with Amelia's Summer market tour. Apricots and peaches will be at their sweetest, and the market will be brimming with corn, tomatoes, and more.
Here's what you'll learn on Amelia's tour:
How to source almost all your food needs–fruits, vegetables, meat, poultry and eggs–with confidence from local farmers.
The benefits of buying produce in season, and how to substitute other varieties of fruits and vegetables for out-of-season favorites.
How to let taste be your guide when choosing farmers' market produce.
The best way to shop the market for the week's recipes and menu plans.
How shopping at farmers' markets can stretch your food dollar and make your meals healthier.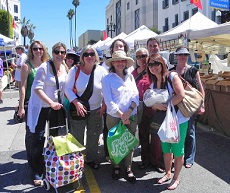 "Amelia has a true love and appreciation for fresh, flavorful produce grown with care by small farmers. Since the tour, we all feel like we have a much better understanding of how food gets to our tables. I hope that these tips help make the farmers market more inviting to you too. I feel inspired and can't wait to go back." Dana at Foodie Goes Healthy

"It was fabulous! I not only became more knowledgeable about food and seasons, but it also inspired me to explore new recipes and new vegetables! The Santa Monica Farmers' Market is really special, and I look forward to being able to highlight it even more to our visitors." – Alexandra Cantle, Senior Manager, Client Services, Santa Monica Convention & Visitors Bureau

"I loved going to the farmer's market with you! I have shopped there for years, but after our tour I feel much more knowledgeable and at home there. I'll see you again in another season and next time I'll bring friends. You're the best!" – Ellen Sandler
Read the Santa Monica Mirror's story about Amelia's tour, and see what Dale Franzen, founding director of the Broad Stage, said about her tour experience.
Ready to sign up? Here are some important details:
The tour begins at 2nd & Arizona at 9:00 a.m. and ends at 10:30 a.m. Wear comfortable clothes—including shoes—and bring a large tote bag or wheeled cart.
The tour will go on, drizzle or shine. In the event of pouring rain, we will make our best effort to give 24-hour cancellation notices. Participants will receive a full refund or offered an alternate date.
You must book by Monday, July 1st.

The price of the tour is $31 per person or $51.50 for 2 persons. Or, $51.50 will buy you a tour for one plus a signed copy of The Santa Monica Farmers' Market Cookbook.
Payment is via PayPal below. You can pay with a credit card even if you don't have a PayPal account. Cancellations must be made four days before the event (by Thursday, July 6th) in order to receive a full refund.
There is a minimum of 4 people and a maximum of 10 people per tour. Upon payment you'll receive a confirmation email with all the details about the tour.
Interested in booking a private tour for a special event? Click here to contact Amelia.