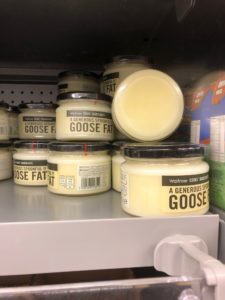 Last week, I had the great pleasure of joining The Gefilteria co-founders Liz Alpern and Jeffrey Yoskowitz and journalist Devra Ferst at the Museum of Food and Drink, for a lively talk and tasting about all the fats—from olive oil to schmaltz—that make Hanukkah food so special.
How have time and place helped define the holiday and its culinary traditions? Here's a new-old Hanukkah story for you to share with your family.
It all started thousands of years ago, with the ancient Hebrews' olive oil harvest on the 25th of Kislev, the dark moon closest to the winter solstice. It was "new oil" they celebrated back then, the last "first fruits" of the year. Jump ahead to 165 BCE and the successful rebellion by the Maccabees and rededication of the temple, also on the 25th of Kislev. Coincidence that the story of the miraculous oil became such a key symbol of this holiday? I think not.
Early holiday foods in the Middle East, Rome, and Iberian peninsula included pastries and pancakes fried in olive oil. Those pancakes? They often were made from cheese. Yes! Once upon a time, long before potatoes were a thing anywhere else but the new world, dairy foods were a Hanukkah tradition inspired by the story of Judith, who subdued the enemy with salty cheese and wine in order to slay him. (An eensy technicality–Judith's valorous exploits preceded Hanukkah's origin story by 400 years.) Today, cheese-based dishes and fried pastries are still holiday traditions throughout the Mediterranean and Middle East.
But how did we get from olive oil to schmaltz, AKA, the journey of the latke? As Jews migrated to the colder climates of central and eastern Europe where animal fat was the predominant cooking medium, two things happened beginning in the early Middle Ages that forever changed Hanukkah traditions for Ashkenazi Jews. Poultry fat–goose, duck, then chicken–replaced oil, and out went the cheese pancake–no mixing milk and meat according to Jewish law. And eventually, in came applesauce, the original nondairy topping.
Early Hanukah pancakes in this part of the world were made from root vegetables, such as beets and turnips, or grains, such as buckwheat (blini!). Potato pancakes didn't show up until the mid-19th century. If you think you're being trendy by grating something other than potatoes for your latkes, you're actually following a centuries-old recipe!
Thousands of years later, December is still the peak harvest time for new oil or olio nuovo, the ultra-green, creamy, aromatic first bottling of the first pressing of olive oil, now available from fabulous producers in Italy or California. This first bottling, full of volatile polyphenols that add complex flavors, is a fleeting experience, not unlike the miraculous oil of yore. Here are some of my favorite oil producers: Bondolio, Seka Hills, Capezzana, Titone, Laudemio, Olio Verde. For more about olio nuovo (with tasting notes) + Hanukkah, see my story and recipes in the Los Angeles Times. Only at this time of year can you find olio nuovo at specialty markets and online. As they say, use immediately, pour abundantly.
So, what's your story–olive oil or schmaltz?